Esse Made is ceramic dinnerware hand formed with regional earthenware clay in the foothills of the Blue Ridge Mountains. Created by Alexis in her small batch studio, each piece is uniquely purposeful and made for day-to-day life.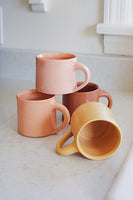 All New Glazes for Every Season
After several months of testing new glazes, we are thrilled to announce brand new colorways! Find one of a kind pieces available now on our ready to ship page.
View